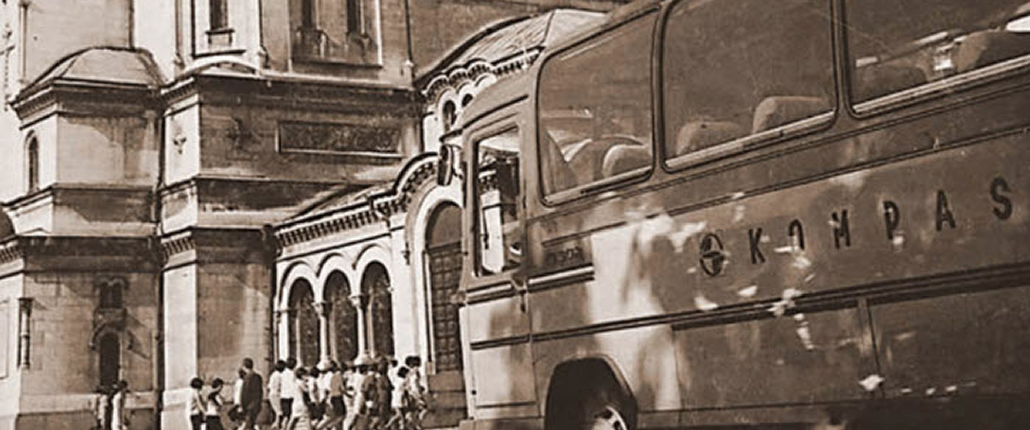 Looking back on our 70 years
Our line of business, tourism, is one of the most appealing sectors in the economy. It allows us to work with numerous factors and providers of end services, and the experiences and memories are unique and unrepeatable every time.
THE FUTURE = our entire range of services
BEAUTY = the content of our range of services
DREAMS = making them come true with and for our passengers
In the distant year of 1951, the company was founded as the transport enterprise Putnik, whose business saw exceptional growth and the expansion of operations and markets. We travelled in the daring sixties and seventies, discovered new parts of the world, bought buses and catamarans, brought worlds together, celebrated major sports achievements and accompanied the big Slovenian names on their path to success at home and abroad. The turbulent times throughout our life have now, in our mature years, made us stronger, more experienced, a more reliable partner and one of the main drivers of development in Slovenian tourism. In the eighties we entered our renaissance, and Kompas became by far the most important tourism company in what was then Yugoslavia. After the collapse of that country and the start of the war in the Balkans, we had to seek out new business to survive. We found business opportunities in all the European and world markets, and by organising trips to Europe and around the world. Our customers came from European countries and even from other continents. Out of an extraordinarily difficult situation we emerged again even more experienced, bigger and victorious, while building our operations continuously on solid foundations, experience, knowledge and a commitment to quality.
We recall our path together from Putnik to the present day, and can state that a love of creating the nicest holidays and itineraries never fades, that the passion which binds us is burning just as fiercely and that together with you, our fellow travellers, creating experiences is truly a fine thing and always inspiring.
We see the future of Slovenian and global tourism as lying in the preservation of cultural and natural heritage, with major emphasis on sustainable tourism, and in respect for diversity and cultivating differences.
Our commitment to sustainable tourism can also be seen in the selection of sustainable destinations and accommodation, which feature increasingly in our products. Kompas no longer issues printed catalogues.
Kompas's greatest asset is most certainly its employees, all the external associates and partners, who in these 70 years have created experiences and unforgettable memories, and through their knowledge, experience and business connections have, together with you, made dreams come true.
As we move forward we will continue to think globally and make our decisions locally, with care and foresight.
The future belongs to those who believe in the beauty of their dreams, so we invite you to travel with us on the path to making our dreams come true in the future.
"The future belongs to those who believe in the beauty of their dreams." (E. Roosevelt)