Magic Salento
A 6 day trip of the Salento peninsula in Southeast Italy, famous for its history, Baroque towns and incredible beaches.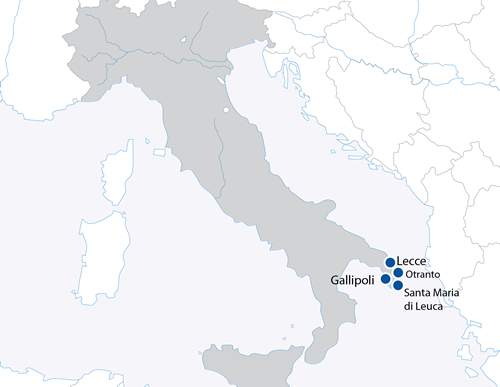 Arrival at Bari "Karol Wojtyla" or Brindisi. Transfer to hotel in Lecce. Welcome drink. Accommodation in the rooms.
Dinner and overnight at hotel.
After breakfast, stroll through the historic centre of Lecce, the baroque capital, known as the "Florence of the South". Visit the main monuments including the Convento Olivetani, the Norman church of St. Nicholas and Cataldo, Arc de Triomphe and Via Palmieri. Lunch in a tavern. In the afternoon, following the visit, you can admire the Piazza del Duomo, the Cathedral, the Basilica of Santa Croce and Castello.
In evening dinner at a typical restaurant in the old town, with animation folk.
Return and overnight at the hotel.
After breakfast transfer to Otranto called "Gateway to the East." Visit the old town. Lunch at a local restaurant.
In the afternoon free time for shopping.
Return to hotel. Dinner and overnight.
Breakfast and departure for Santa Maria di Leuca, the extreme tip of Italy where they meet the Ionian Sea and the Adriatic Sea, located in a unique setting. Visit the Sanctuary of Santa Maria de Finibus Terrae. Lunch at a local restaurant.
Continue to Castro and visit the Grotta Zinzulusa.
Return to hotel, dinner and overnight.
Breakfast and departure for Gallipoli, an ancient maritime city. Guided tour of its historical centre. Pranzo seafood in a restaurant.
Return to Otranto through the town of Nardo and Galashiels.
Dinner and overnight at hotel.
Breakfast. Transfer to the airport and end of our services.
Send a request / Contact us
By submitting an inquiry, you agree to read and agree to the
General Terms and Conditions
and
Privacy Policy
.
GDPR Consent*
All details provided by you will be held by Kompas d.o.o and used in accordance with our Privacy Notice. By clicking 'SEND' you consent to Kompas d.o.o companies contacting you regarding the requested offer and information about our products and services.
I consent
I do not consent