Italy Highlights
An 8-day journey through Italy's most famous highlights, a selection of the best and most amazing places with an incredibly rich and fascinating history.
Few places rank as high on a travellers' bucket list as Italy. Whatever your taste in travel, you'll satisfy it in this country that is both exotic and familiar. History, art, food, music, architecture, culture, sacred sites, charming villages, and stunning scenery are all around, and in an amazing atmosphere.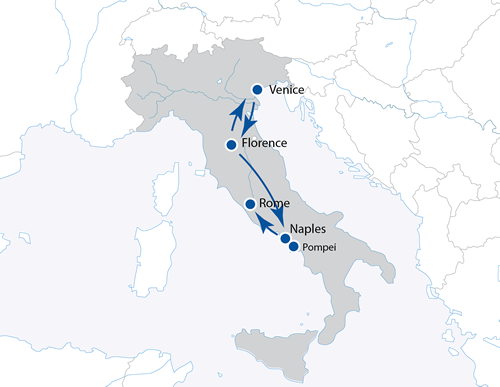 On early morning departure to Florence through the hilly countryside of Tuscany, where it is possible to remember the exceptional talents who travelled this path long before us, Dante, Da Vinci. Michelangelo, Galileo, Botticelli. After getting settled into our hotel, dinner at a lovely local restaurant to taste typical
dishes with Tuscan wine.
Overnight in hotel.
After Breakfast board on the first-class train to Venice. Arrival in time for a typical Venetian lunch with wines of the Veneto region (optional). After lunch, guided walking tour for a sightseeing of St. Mark's Square, the great Byzantine Basilica, and inside the Doge's Palace. Return to Florence on the evening.
Dinner and overnight.
Today guided visit of the beautiful Florence, departure from Piazzale Michelangelo, followed by a tour of the Academy of Fine Arts where Michelangelo's proud "David" stands, the majestic Duomo built in 1296, the Giotto's Bell Tower and the Baptistery with its renowned "Gates of Paradise" doors. Continuation of the visit following the medieval streets to the most striking square in Florence, Piazza della Signoria and then to Santa Croce Church.
Free time for shopping.
Dinner and overnight.
After breakfast, depart on a relaxing drive to Naples through the beautiful Tiber River Valley, the medieval villages of Orvieto and Orta, the rolling hills, scenic vineyards and dreamy olive groves of Tuscany, Umbria, Lazio and Campania. Finally arrival to the sapphire seas of the Gulf of Naples and the imposing presence of Vesuvius.
Panoramic tour of Naples.
Dinner and overnight.
After breakfast, go across the bay of Naples to the world's most enchanting island: Capri. The vacation spot of Roman emperors and today's movie stars.
Sail back to Naples in the late afternoon.
Dinner and overnight in hotel.
After breakfast departure to Pompei. A city perfectly preserved as it was on that fateful day 2,000 years ago, when ash and lava literally stopped it in its tracks. You'll see the tragic fossils of people attempting to escape and the 'secret room'.
In the afternoon, continue to Rome.
Arrival in the late afternoon , dinner and overnight in hotel.
After breakfast, take a guided visit of the Vatican Museums and the Sistine Chapel, the room where the Pope is elected. Next visit to St. Peter's Basilica, by far the largest church in Christendom and see Michelangelo's Pieta, as well as Bernini's seven-story bronze canopy located above the main altar. After a break for lunch, continue to a panoramic tour of Imperial Rome including Castel St. Angelo, the Roman Forum, Largo Argentina, the Jewish Ghetto and the Circus Maximus, Colosseum.
Dinner. After dinner, there's the possibility to go for a night city sightseeing of Rome (optional).
Overnight.
Continental breakfast. End of the tour.
Send a request / Contact us
By submitting an inquiry, you agree to read and agree to the
General Terms and Conditions
and
Privacy Policy
.
GDPR Consent*
All details provided by you will be held by Kompas d.o.o and used in accordance with our Privacy Notice. By clicking 'SEND' you consent to Kompas d.o.o companies contacting you regarding the requested offer and information about our products and services.
I consent
I do not consent