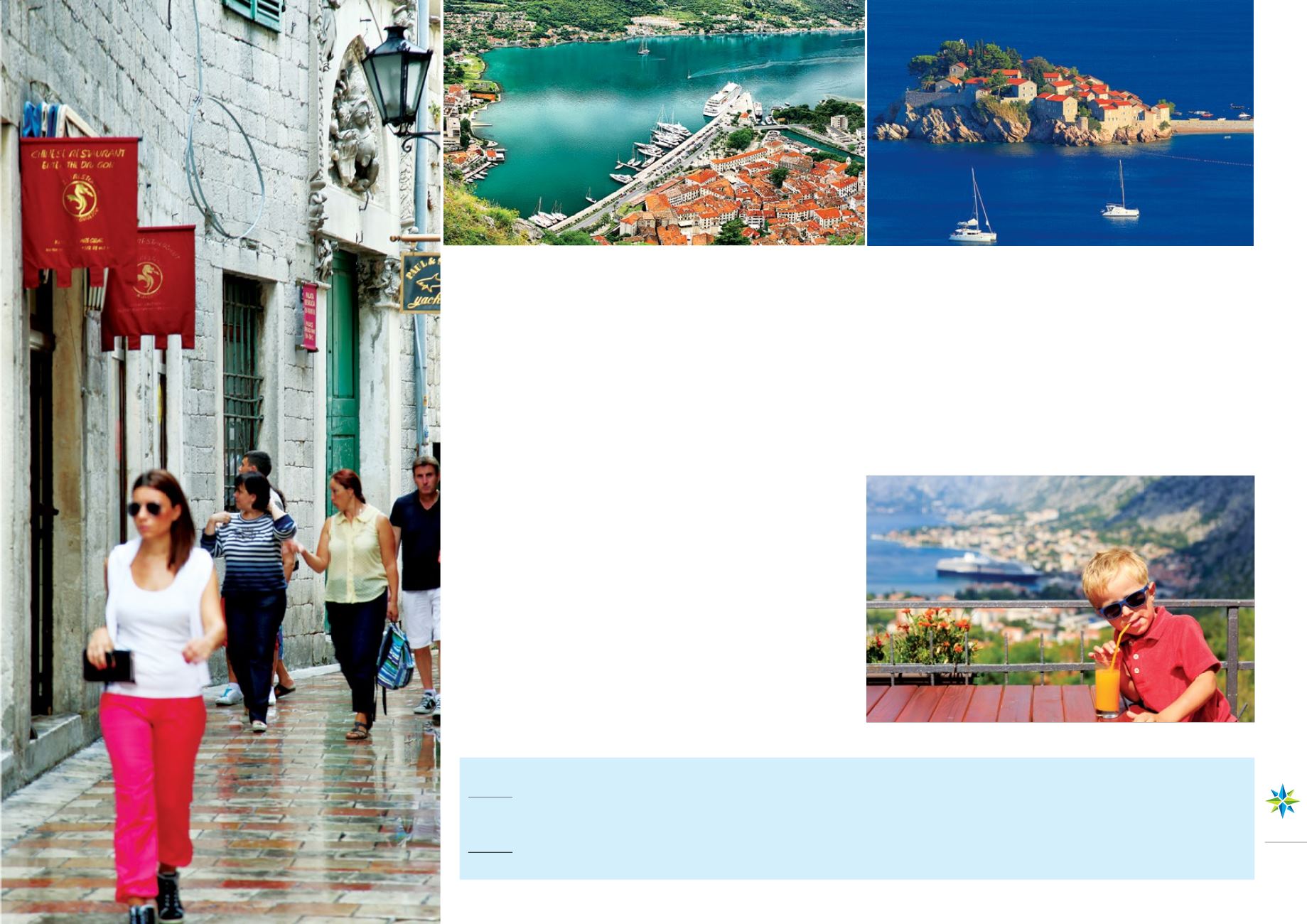 021
Montenegro is a destination that is soaring, with plenty of
assets! Stretching over 295 km of coastline including 72 km
of beaches, it is home to some remarkably well-preserved
medieval towns along Montenegro's Adriatic coast, which is
considered one of the great "discoveries" of tourism in recent
years. The unmissable towns include:
• The islet of Sveti Stefan, built in the fi eenth century as a
fishing village, has become a hotel town and the most luxurious
tourist location and most photographed place in Montenegro
• Budva, the "party capital" of Montenegro, seen as the "Monte
Carlo" of the Adriatic. At night, Budva is full of activities: it is a
perfect place to sip cocktails, listen to live music or dance the
night away
• The ancient town of Stari Bar, full of architectural wonders
from the Byzantine, Venetian and O oman eras, o ers a
magical walk with stunning panoramic views of the Adriatic
and the surrounding mountains
• The old walled city of Kotor and the romantic village of Perast,
nestled in the spectacular bay of Kotor, move even the most
demanding visitors
T
M
MONTENEGRO
Brad Pi played his first film role on the coast of Montenegro. It was the Dark side of the Sun, filmed in 1987 and directed by the Montenegrin, Božidar Nikolić. Mila
Jovovic, the famous actress, has Montenegrin roots from her father who came from the country.
The oldest tree in Europe is said to be located beside the road from Bar to Ulcinj. It is an olive tree that is more than 2,000 years old! It is protected by the State and
remains a great tourist araction. At one time, the Italians o ered millions of Italian lire to remove it, roots and all, and replant it in Rome, but the o er was not suc-
cessful.
Though small, the country is inhabited by "giants". Montenegrins are among the tallest people in the world!