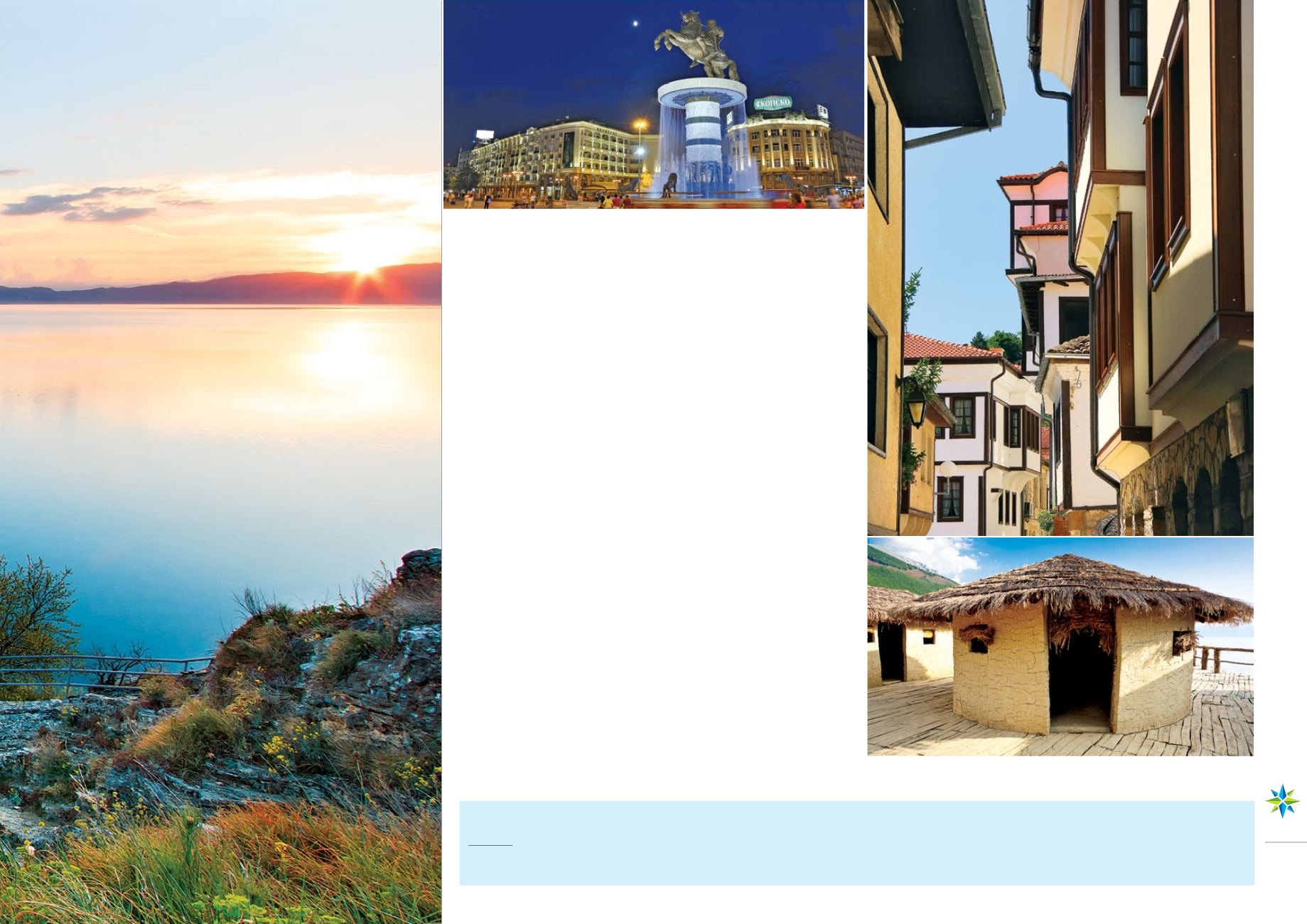 027
MACEDONIA
During the project "Skopje 2014" there were works and gigantic and impressive buildings built that shine in all their bright colours. This architectural and cultural pro-
ject is widely controversial, with opinions divided on whether it is kitsch or urban elegance. Check it out for yourself!
The ethnic diversity of Macedonia was the inspiration for the famous "macédoine" salad, a salad of mixed, diced fruit or vegetables, popular in France, Italy, Spain and
Latin America.
The Macedonian cities and their rich cultural
and archaeological heritage
• The town of Ohrid, nicknamed "The Balkan Jerusalem" with its
365 churches, will charm you with its narrow cobbled streets,
numerous lively outdoor cafes and its lake, so magnificent that
people have nicknamed Ohrid "the Kingdom of light and water"
• Skopje, the surprising capital, dominated by the fortress
"Kala". Marvel at the monumental stone bridge in the O oman
style and shop in the biggest market of the Balkans: "Starata
Skopska Tcharchia"
• Struga, a UNESCO World Heritage Site and the city of poets
Other locations and unusual events
of Macedonia
• The museum on the water in the Bay of Bones is a village which
has been rebuilt on the water and harbours discoveries from
the Bronze Age and the Iron Age. You can go diving there, above
the remains of the lake city dating from 2000 BC, a unique
experience!
• The Stone City "Kuklica" with its very strange natural rock
formations
• Heraclea, Roman excavations in Bitola, with dazzling mosaics,
an ancient theatre and Roman baths
• The village of Galicnik, where every July you can a end a
traditional wedding which lasts three days and a racts
thousands of spectators