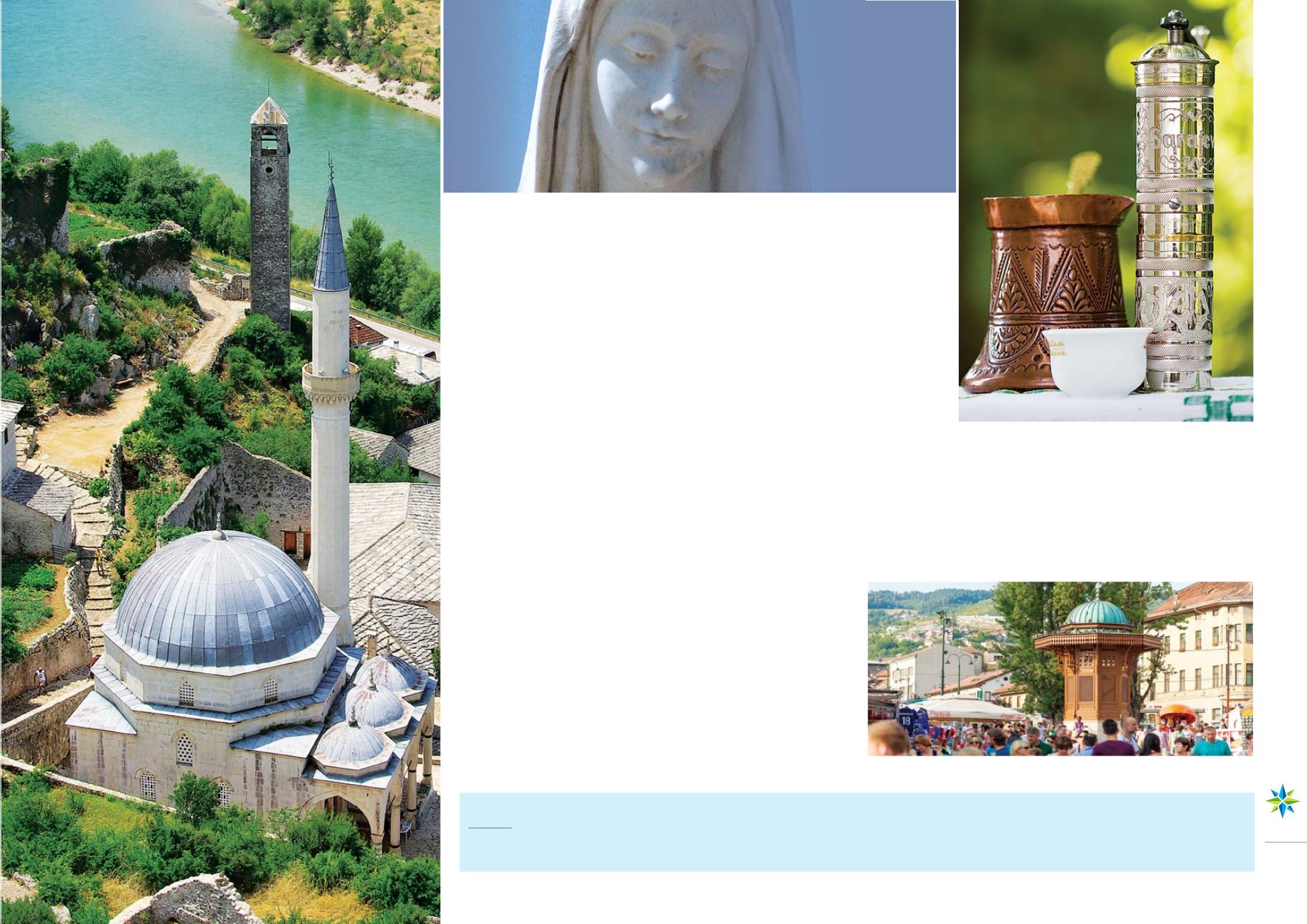 013
E€
B
H
BOSNIA AND HERZEGOVINA
Bosnia and Herzegovina has a very wide range of tours to
take. The country has a wealth of stunning mountain scenery
and o ers direct access to wide outdoor spaces, a sense of
adventure and a rich historical heritage. It forms a dual vantage
point, marking the easternmost point of the West, and the
westernmost point of the East. As such, it bears the imprint of
two great empires, the Ooman and the Austro-Hungarian,
both of which have had inescapable influences on the culture,
architecture and religion of this country at the crossroads.
Few places on earth feature an Orthodox church, a Catholic
church, a mosque and a synagogue within a few minutes'
walking distance of each other. This is the capital Sarajevo,
the Jerusalem of Europe, where there is always something
going on: choose from the many festivals (do not miss the
famous Sarajevo Film Festival), or simply stroll along the alleys
surrounding the Ooman quarter of Baščaršija.
When staying in Bosnia, do not miss Jajce, the capital of Bosnia's
medieval kings, an open-air museum town where the Republic
of Yugoslavia was created; Mostar, the charming capital of
Herzegovina, with the striking beauty of its pre-Ooman and
Ooman ruins; and Medjugorje, the holy place where the Virgin
Mary appears to believers and which has already been visited by
more than five million people.
The Winter Olympics took place in Sarajevo in 1984 in Sarajevo!
The diversity is particularly clear in the religious sphere: the population of Bosnia and Herzegovina is 40% Muslim, 31% Orthodox, 15% Roman Catholic
and 14% other faiths.