Poland
Discover the best of Poland on this 8-day journey.
Situated in "The Heart of Europe", Poland is a country of rich history and cultural heritage, and beautiful nature, with Europe's oldest primeval forest and an exciting modern atmosphere.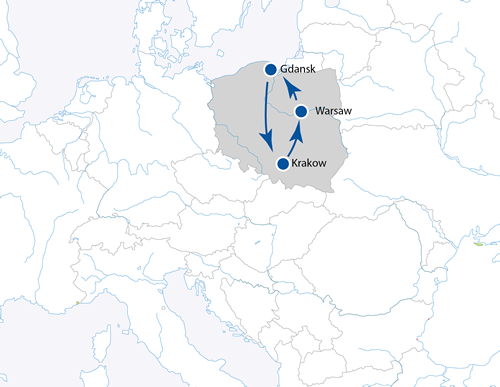 Upon arrival, enjoy a private transfer to your hotel and check in.
Discover Warsaw through a half day city tour. Admire famous monuments along the Royal Route, Old Town and Lazienki Park or walk near the river boulevards. In the afternoon, take your own way to the train station for a 3hrs train to Gdansk, check in to Hotel in Gdansk.
Explore Gdansk Old Town on your own, and then cafés & Restaurants near the Motlawa River. Afternoon to see Sopot or one of the most popular museums in Gdansk – Solidarity museum or the World War II museum.
Have a leisurely morning in the Old Town of Gdansk or board to one of the ships in the Old Town for a trip on the Baltic Sea.
Afternoon train to Krakow & check in at the Hotel. Eat at the train's restaurant or enjoy dinner in the Old Town of Krakow – maybe one of the rooftop restaurants overlooking Wawel Castle and Vistula river?
Krakow – City tour & Wieliczka salt mine
You will have a chance to see Old Town (UNESCO) with old Jewish district of Kazimierz, Wawel Hill with its impressive arcaded Renaissance courtyard and the famous Gothic cathedral, the oldest university college – the Collegium Maius, with a beautiful Gothic courtyard, to finish the tour in the heart of Kraków – the Main Market. A tour is also possible by bike!
Krakow - Ausschwitz & Birkenau
In the morning meet your guide and take a coach tour where you will learn about Auschwitz- Bikenau Nazi concentration camps.
Optional folklore dinner / live concert or Divine Mercy Sanctuary of Sister's Faustina in the afternoon.
Leisurely morning in Krakow, afternoon train to Warsaw. Make your own way & check in.
Last minute shopping in Zlote Tarasy central shopping mall & departure transfer to the Airport
Send a request / Contact us
By submitting an inquiry, you agree to read and agree to the
General Terms and Conditions
and
Privacy Policy
.
GDPR Consent*
All details provided by you will be held by Kompas d.o.o and used in accordance with our Privacy Notice. By clicking 'SEND' you consent to Kompas d.o.o companies contacting you regarding the requested offer and information about our products and services.
I consent
I do not consent