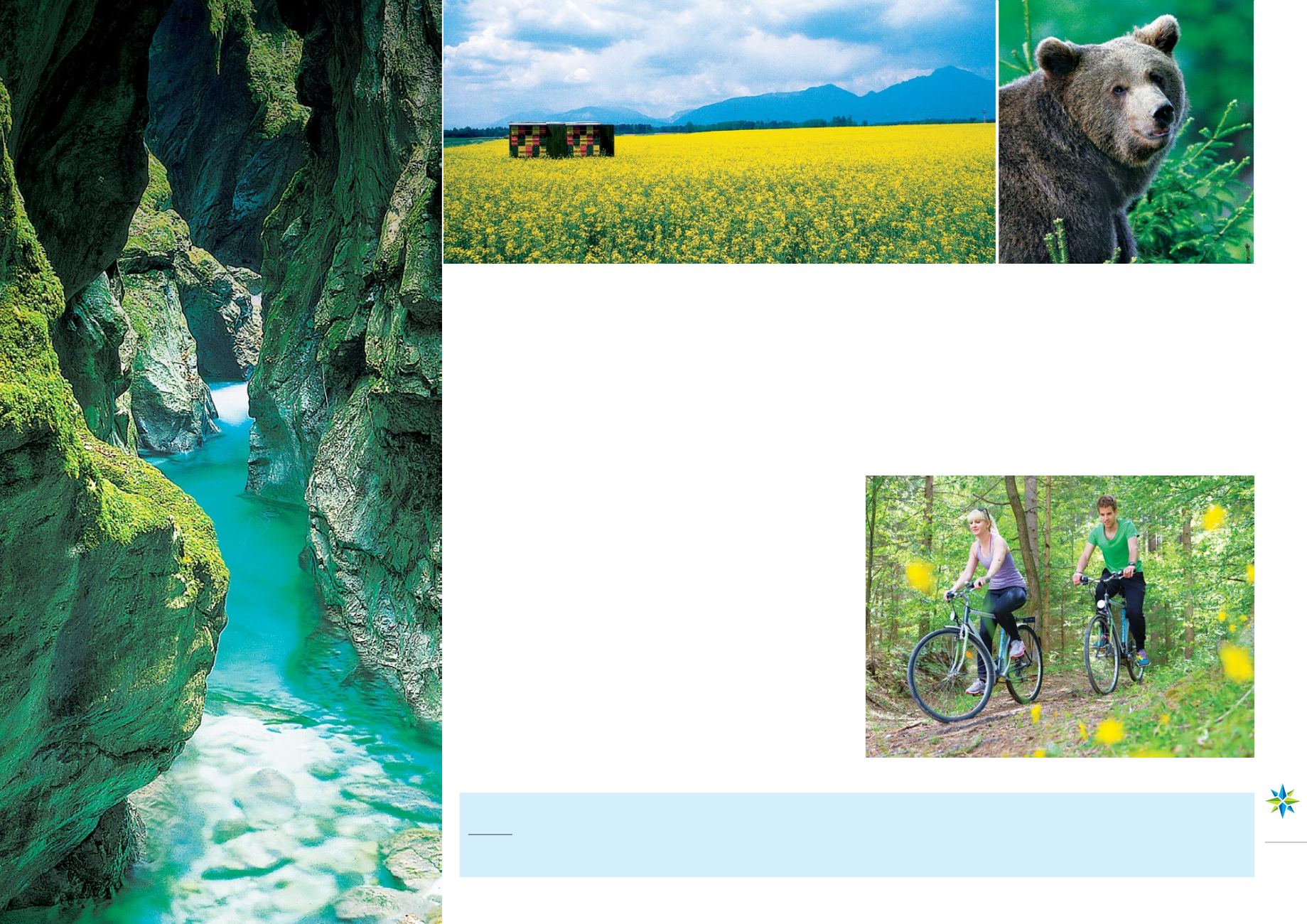 05
At the crossroads of the Alps, the Mediterranean and the
Pannonian Plain, Slovenia o ers a surprising number of natural
aractions in a compact area. Discover the variety of Slovenian
landscapes and experience this country of exceptional
contrasts, including:
• The Triglav National Park, with its remarkable landscape of
snowy peaks and picturesque valleys full of wild flowers
• Crystal clear rivers with amazing narrow gorges and over 300
waterfalls and glacial lakes of remarkable purity
• The distinctive cabins of Velika Planina and Zajamniki still
inhabited by shepherds in the spectacular se ing of the Kam-
nik-Savinja Alps
• The mysterious underground world of Karst, with over 9,000
caves including the Škocjan caves classified as a World Heritage
Site by UNESCO, an incredible creation of nature in the
beautiful underground canyon, the deepest in Europe
• Logarska Valley, a stunning glacial valley where people still live
in harmony with nature
• The charming wine routes crisscrossing the hills of Gorica, Jeru-
zalem and Goriška Brda
• The preserved forests where it is still possible to observe the
large European predators: brown bears, wolves and lynx
At almost every step you are surrounded by lush habitat, which
the nature-loving Slovenians still know how to protect. Slovenia
o ers an invigorating breath of fresh air with a wide variety
of activities throughout the year: hiking, cycling, water sports
(raing, canyoning, kayaking, canoeing), adrenaline sports (zip
line, climbing), winter sports (downhill skiing, cross country
skiing, snowshoeing), horse riding, mountain biking, fly fishing,
wildlife viewing, panoramic flights by plane or balloon, and
many more.
U

SLOVENIA
More than half of Slovenia is covered with green forests. Only Finland and Sweden have larger woodland areas in Europe. At the heart of the ancient woodland of
Kočevje and on the Snežnik plateau it is still possible to observe brown bears in their natural environment, but you must tread very carefully.
Andrew Adamson, the director of the Disney film "The Chronicles of Narnia: Prince Caspian", filmed in Bovec, described this region using these words: "I was struck by
the beauty of this place as a director and as a tourist. It is wonderful here, the Soča valley is perfect for shooting a fairy tale."